Phone: 08 8932 9738 — AH Emergency Only: 0407 391 543
Our Palmerston Veterinary Hospital is located at:
Corner of Temple Tce and Callanan Road
(enter at 56 Georgina Crescent), close to Palmerston Shopping Centre, and a quick drive from Berrimah, Howard Springs and Darwin.
Ultrasound
Weight Control
Advice on Pets and Pet Products & Services
More information about our Veterinarian Services and the Pet and Wildlife Species We Treat
Our veterinarian, vet nurse, training and admin staff are welcoming, caring and appropriately qualified. We have free and wheelchair-accessible parking on site.
You won't find a vet who knows more or cares more than we do! Drop in and say hello, have a look at our range of pet products, and ask any questions you have.
What's Happening on Facebook?
Free Desexing for Cats – Community Grant programs
Are you a concession card holder in Darwin, Palmerston or Litchfield area?
If yes you can now apply to get your cat desexed for free. Ark Aid Inc was successful in receiving two grants for cat desexing.
As part of two community grants City of Palmerston, Animal Welfare branch, Ark Aid Inc and Cat Association Northern Territory are offering free desexing and/or microchipping for your cat. The program will run until June 2017 and will give up to 200 cat owners the chance of free desexing.
All surgeries will be done professionally at The Ark Animal Hospital in Yarrawonga.
Find out more about the program and learn more about cats – www.everycat.com.au
To apply contact us 08 8932 9738 or Cat Association Northern Territory 0407 452 947
and via email info@wildlifedarwin.org.au
Why Choose The Ark Vet for your Pet?
We Care
We really do care. Lots of places and organisations claim to but we really do.
We know how much your pets mean to you because we are all pet owners ourselves.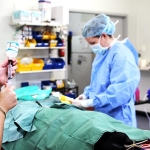 We are committed to caring for both you and your pet.
We care and we know you do too.
We Listen
You and Your Pet are treated with respect.
We know how important pets are, so we listen.
We are there when you need us
24 Hrs a Day / 7 Days a Week emergency on Call.
If you have an emergency call us on 0407 391 543
We care for all creatures great & small
Dogs, Cats, Rabbits, Rodents, Reptiles, Birds, Frogs & Fish, Wildlife.
You name it we treat it. We care about all species. We will treat all our patients and their carers with respect and care.