Phone: 08 8932 9738 — AH Emergency Only: 0407 391 543
Our Palmerston Veterinary Hospital is located at:
Corner of Temple Tce and Callanan Road
(enter at 56 Georgina Crescent), close to Palmerston Shopping Centre.
Quality Pet Products
Bone Treatment and Surgery (Orthopaedics)
Teeth and Gums (Full Dental Service)
Weight Control
Advice on Pets and Pet Products & Services
More information about our Veterinarian Services and the Pet and Wildlife Species We Treat
Our veterinarian, vet nurse, training and admin staff are welcoming, caring and appropriately qualified. We have free and wheelchair-accessible parking on site.
You won't find a vet who knows more or cares more than we do! Drop in and say hello, have a look at our range of pet products, and ask any questions you have.
November Special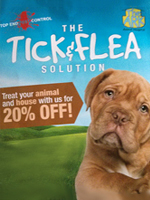 Win the battle!
The best tick control is always prevention. While we see ticks all year round in Darwin, the brown dog tick is most active during the early wet season and build-up. Ticks are prolific breeders, with each female tick producing around 3,000 eggs.  Ticks and Fleas could easily become a problem. That's why we have partnered up with Top End Pest Control and would like to offer you a special package deal:
20% off Tick and Flea treatment for your home and pet
Why Choose The Ark Vet for your Pet?
We Care
We do really care. Lots of places and organisations claim to but we really do.
We know how much your pets mean to you because we are all pet owners ourselves.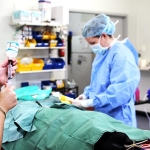 We are committed to caring for both you and your pet.
We care and we know you do too.
We Listen
You and Your Pet are Treated With Respect.
We know how important pets are, so we listen.
We are there when you need us
24 Hrs a Day / 7 Days a Week emergency on Call.
If you have an emergency call us on 0407 391 543
Open long hours for you. House calls available by appointment.
If you have trouble getting to us we come to you.
We care for All Creatures Great & Small
Dogs, Cats, Rabbits, Rodents, Reptiles, Birds, Frogs & Fish, Wildlife.
You name it we treat it. We care about all species.
We will treat all our patients and their carers with respect and care.