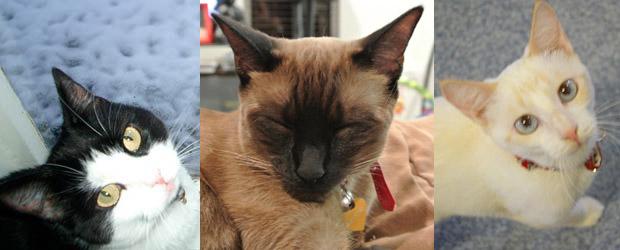 The Ark Animal Hospital is a cat friendly vet clinic. We are dedicated to the health and welfare of cats. Our vet clinic has cat friendly facilities and a long term commitment to cat rescue groups. We also offer free cat speys and castrations organized by our charity Ark Aid Inc.
Because if their unique nature and needs, taking a cat to a vet, can be very stressful.
That's why we always aim to
minimize stress during handling, examinations and procedures.
have a dedicated hospital room for cats.
set up appropriate cat hospital cages with two levels if needed.
undertake constant training for our staff to improve their knowledge about treating cats.
Veterinary Services for your cat
Feline Skin Conditions – prevention & treatment.

Allergy Testing & control.

Prescription diets recommendations.
Some of the products we sell for cats
Premium Cat Foods.

Selected Cat Toys.
Transport cages.
Selected Treats.
We also offer free dental checks for your cat.
Our commitment to local cat charities
Did you know the Ark Animal Hospital is the main supporter of Top End Rehoming Inc? This Darwin and Katherine based pet rescue organization is specialized in rehoming cats and kittens. In 2016 we donated more than $30.000 in veterinary services to Top End Rehoming Inc.  Most desexings, vaccinations, microchipping and other veterinary service is provided by our vet clinic.
The Ark Animal Hospital also desexed 42 male cats for Darwin Animal Rescue Group.
Ark Aid Inc – Free Desexing program
In 2016 our charity Ark Aid Inc. was successful in applying for two grants to offer free cat desexing for concession card holders. We desexed 220 cats in the Darwin region for free and microchiped 100 of these cats also for free.
In 2017 we have another free 120 free surgery spots for cat speys and cat castrations for concession card holders including pensioners. We also set up a cat education initiative called EveryCat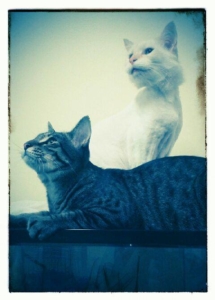 Two of our three clinic cats Finn and Ari.